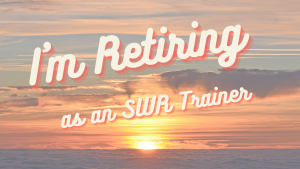 To everything there is a season,
A time for every purpose under heaven.
— Ecclesiastes 3:1
My season as an Endorsed SWR Trainer is coming to an end.
I was first introduced to Teaching at Home by Wanda Sanseri in August 1991, and four years later I became the second trainer to be endorsed so I could teach others how to use what would become known as Spell to Write and Read. My passion and focus for these past 25 years has been to encourage and to equip educators in teaching these powerful methods effectively.
As of July 2020 I am retiring from my position as an Endorsed SWR Trainer so that I can pursue other career opportunities.
I will always have the highest respect and regard for Wanda Sanseri, who has given her all to helping raise up generations that can read and write effectively. She has been my mentor, both as a trainer and as a sister in Christ. I cherish the years I have worked with her and alongside the phenomenal team of other Endorsed SWR Trainers. I am honored by the teachers who invited me to help them grow in their teaching skills, and each and every one of the students who was entrusted to my instruction hold a special place in my heart.
Here are answers to questions you may have.
SWR Support
One of my roles as an Endorsed SWR Trainer has been providing support to our many program users on different online groups. Other Endorsed SWR Trainers have been and will continue to provide this necessary and valuable support.
Online and California SWR Seminars
Some of the Endorsed SWR Trainers are currently offering online seminars via Zoom. Please refer to the Back Home Industries Seminar Itinerary for more information.
California teachers and schools interested in SWR training will need to refer to the BHI seminars itinerary for a schedule of upcoming in-person seminars. If you want a class in your area, please contact Wanda Sanseri about hosting one. Trainers from other areas of the country may be available to travel when invited.
My Publications
I am still publishing Cursive First and the Wise Guide Enrichment Activity Worksheet Books, which are currently available on my website, through several trainers, and from other vendors. It has yet to be decided how long I will continue to publish. Any changes will be posted on my website and in a future email.
SWR Lesson Plans
In 2013 I saw a need for daily SWR lesson plans and began working wholeheartedly toward that goal. Because I believed that I was close to publication in 2017, I made a premature public announcement about the forthcoming lesson plans. As each summer since then drew to a close without a finished product, I alerted those waiting that more work was still necessary.
With my retirement as a trainer, my project has been closed permanently. I am heartbroken that I leave it unfinished, but I am having to trust both the need and my grief to my Lord Jesus (Proverbs 16:9; James 4:15). I am sincerely sorry that I am unable to deliver what I promised.
SWR and Other Materials
I am currently having a "Closing Inventory" sale in my online shop. If there are certain items you are looking for, please get them now while they are still available. You can use the discount code CLOSEOUT for 20% off any remaining inventory.
Please note:
The SWR products are still available from other vendors, which are listed on the Contact Us page of my website.
You will find an "in stock" notice on items that will not be replaced.
Items that lack an "in stock" notice are not being limited at this time.
Share