Cursive First: An Introduction to Cursive Penmanship
Historically cursive was taught first to our nation's children. Today, reading and dyslexia experts are rediscovering that teaching cursive first–before print or manuscript–improves long-term penmanship skills, helps children learn to read, virtually eliminates reversals, and enables children to read what is written by others. Cursive First introduces children to writing numerals, the cursive alphabet, and the most common phonograms of the English language. The package coordinates with the instruction found in the highly successful Spell to Write and Read and The WISE Guide by Wanda Sanseri, and can be used with the beginning writer or an older student transitioning from print to cursive.
Why teach cursive first?
You can read an abridged version of the first chapter from Cursive First on the rationales for teaching cursive as the initial penmanship here.
What's included in Cursive First?
The Teacher's Manual includes discussion and instructions about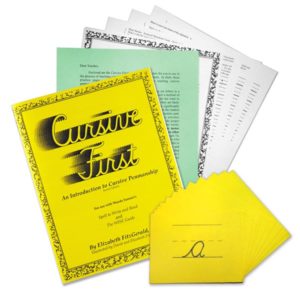 the rationales for teaching cursive first
developmental considerations and how to prepare the young child
the reference tools used to teach penmanship
how to teach cursive penmanship to beginning or transitioning writers
how to use the practice sheets
detecting visual and perceptual problems
The Practice Sheets
include detailed instruction and dialogue for teaching numerals, cursive strokes, and the first 26 phonograms
utilize narrow ruled, dotted lines for practice
provide brief and specific practice of phonograms under current study
teach lower case letters separately from capital letters
teach connections between letters from the very beginning and in the natural context of multi-letter phonograms
provide solid and dotted line models for writing, but quickly wean the student from tracing to more active learning and writing
can be used as masters to copy as many times as needed for each child in your classroom or family
The Cursive First Card Set
provides practice for reading the first 26 phonograms in cursive to encourage instant recall
includes instructional dialogue for writing the phonograms and sample of cursive writing
includes instruction cards for teaching numerals and cursive letters
is ready to cut apart and laminate for durability
is printed on yellow card stock to differentiate them from other phonogram or spelling rule cards.
The 70 Basic Phonogram cards (sold separately)
These cards help your student read and write the letters that make up the written language we call English.
If you have the Core Teacher's Kit for SWR, you will already have these cards, so all you'd need is the Cursive First package.
If you're planning on using Cursive First separate from SWR, you'll need the phonogram cards. See our Cursive First FAQs page for more information on why we recommend this.
The Phonogram CD (sold separately)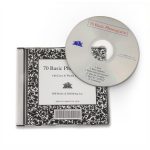 The audio CD helps you learn the phonograms so that you can teach your students correctly.
Your student can listen along to the CD as well.
Together with the 70 Basic Phonogram Cards, the CD or mobile app completes your Cursive First package (available from Google Play or iTunes for your mobile device).