The Wise Guide Enrichment Activities Worksheets now make the powerful reinforcement ideas from The Wise Guide available in an easy-to-use format for any teacher. Students practice their spelling words in a variety of meaningful lessons that build vocabulary and connect spelling with the grammar and language in which they are found.
The Teacher Answer Key book provides instructional tips, answers, and ideas for how to use and modify the lessons. Instructions for teaching grammar and writing are included for the teacher that needs help in these areas.
The Student Worksheets (on CD or digital file) includes the student version of the worksheets for all of the lessons found in The Wise Guide and more, ready for the teacher to select and print. Please read this announcement for how we have moved to digital download for the student worksheet files.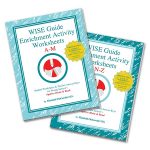 While working with SWR teachers, I started noticing a pattern. These teachers loved the SWR program and the beauty of the multi-sensory approach. They worked to perfect their spelling dictation and to navigate the weekly lessons. However, they tended to overlook or skip the reinforcement activities, thus not taking full advantage of the language lessons in The Wise Guide. Their students now have the opportunity to work with and experience the spelling words in the context of the language they are expected to use for everyday reading and writing activities. This is key to understanding spelling and how the English language works.
The worksheets were developed so students could practice their spelling words in a variety of meaningful ways, all while continuing to reinforce the multi-sensory approach. For any activity in The Wise Guide from List A to Z that lends itself to a worksheet, there is one...and more! The worksheets are easy to understand for both the student and the teacher, and instructions for teaching grammar and writing are included for the teacher that needs help in these areas.
Lessons from include a wide variety of language activities:
abbreviations
alphabetizing
alliteration
analogies
antonyms
art
associated words
composition
compound words
contractions
crossword puzzles
degrees of comparison
derivatives with prefixes, suffixes, and base words
diagramming
double meaning words
etymology (Greek, Latin, French roots & more)
geography
grammar (all eight parts of speech)
homophones
metaphors & similes
original sentences
oxymorons
plurals
possession
punctuation
science vocabulary
sentence dictation
sentence patterns
sound discrimination
spelling rule focus & practice
synonyms & rhyming synonyms
stylistic techniques for writing
verb conjugation
vocabulary
Pages also included:
composition with illustrations
phonogram review games
phonogram quizzes
review words from Wise Lists A-I (Lists M & N)
silent final E review
Have some questions about the worksheets?
I love the worksheets because they make my job so much easier. All the planning and organizing is done for me. In the past, I had to figure out how to set up a lesson and how to execute the ideas in the WG. The answer key is there for me to follow, so I know exactly what to do. It frees my mind and I know the work is getting done. My son likes them because he can see how much he has to do and what his goal is to cross the "finish line" for the week. Best of all, he's not dealing with a frustrated mother.–Arlene, Homeschooler
These worksheets are organized and follow the Wise Guide well. For every activity in the Wise Guide, there's an activity among the worksheets. For example, we're working on compound words—there's a worksheet for that. I am able to print out that page and give it to my kids. These save me hours upon hours of work. They're awesome! They have made it possible for me to actually use the ideas in the Wise Guide with the students on my case load.–Victoria, Special Education Teacher
These worksheets have streamlined our language arts classes and have eliminated the time spent to incorporate grammar and writing lessons.–Marisa, Homeschooler
The worksheets have changed my life! There's no confusion, questioning, or time wasted TRYING to figure everything out on my own! Everything I need to teach is all in one EASY place! I can't express enough how helpful these worksheets have been and how they have made my students as well as my own experience more enjoyable!–Cindy, Homeschooler
My absolute favorite phonics, spelling and reading curriculum is Spell to Write and Read and using this curriculum just got easier with the creation of the WISE Guide Enrichment Activity Worksheets books! ... In the past I rarely got around to doing the enrichment activities listed in the WISE Guide. Now that I have the WISE Guide Enrichment Activity Worksheets book, I am able to incorporate these important activities into our weekly spelling lessons. One of the benefits of the worksheets is the ease at which grammar is now being combined with spelling. My kids are retaining so much more spelling and grammar now that they are combined. Read more... –Janelle, Writer, Speaker, and Homeschool Consultant
The worksheets make it easy for me to have my daughter get more practice in spelling, grammar, and writing. Since they are designed specifically to be used for the Spell to Write and Read program, I can just start teaching without a ton of extra work and my student gets the practice she needs.–Amy, Homeschooler
Permission for reproducing the Student Worksheets is granted only to the individual consumer, whether that be a classroom teacher, for use within a single classroom, or a homeschooling parent, for use within a single family. In other words, each teacher in a school and each homeschool family would need to have their own copy. Thank you in advance for honoring the work that has been put into this publication, and for allowing us to receive compensation for it accordingly.