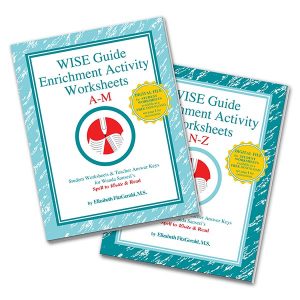 In August we announced that our Wise Guide Enrichment Worksheet books are getting a digital makeover (see this blog post). Instead of delivering the Student version of the worksheets on a CD, this file will now be provided as a FREE digital download.
What this means to you, the customer:
Our website is now ready to automatically deliver the free digital files. The Teacher's Answer Key, 4th printing, will include instructions for how to use a coupon code to access the file free of charge from our site, whether you purchased your book from us or from another retailer.
We are now shipping the new Teacher's Answer Key books, both A-M and N-Z.
Some retailers may still have inventory of their 3rd printing books. Those will include the CD or instructions for how to access the digital file, depending on when the retailer received the books from us.
The student worksheets files will not make sense nor be usable without the Teacher's Answer Key. Do not attempt to download the file without our access instructions. Not only will you be charged full price for the file, but we do not offer refunds for digital files purchased without the coupon code.
If you purchased the Worksheets book with a CD, you can save the file from the CD to your computer's hard drive. If you are unable to use the CD, use the button below to request a digital file.
We're so excited with these new updates!