We're continuing to answer the common questions our SWR users have about the Learnings Logs.
Did you miss our previous posts in our SWR Learning Logs series? You'll want to start there.
Part One, Part Two, or Part Three
Using the Learning Log
Q: When do students write the spelling words in their Learning Logs?
A: When you dictate a new spelling word, the student will write it from your dictation, sight unseen. This sample dictation video will demonstrate this for you.
Exception: If you have a brand new Kindergarten or 1st grade student still working on spelling, you may want to do some spelling dictation in large motor for a few weeks WHILE you continue building fine motor skills on paper during your penmanship lessons. Once the student is ready to write on paper, go back and re-dictate those lists, this time having your student write them in his Learning Log.
Q: What do we use to write in the Learning Logs?
A: Use a PENCIL when writing inside your logs, both teachers and students…you will need to erase! I recommend using mechanical pencils so the point never gets dull, and you won't have the pencil-sharpening interruptions in the middle of your lessons.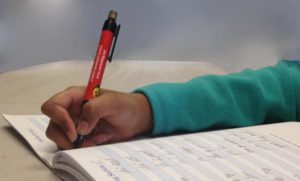 Q: When and where do we use the red pencil?
A: The red pencil is ONLY used in the Reference Pages section of the book, not where regular spelling words are recorded. Why? The purpose of the red pencil is to bring the eye to the concept being taught on that page and in that part of the page.
Q: When and where does my student add the sample sentences to the Learning Log?
A: Sample sentences are written throughout the week on separate paper, on worksheets, in a journal or wherever you want. At the end of the week, have the student select his favorite 1-2 sentences and then dictate those to him to write in the space below his spelling words for that list.
Q: How often will you add sample sentences to the Learning Log?
A: That depends on how many words you're teaching each week.
If your Kindergarten student is learning 10 words a week (1/2 of a Wise List), then he will add sentences every other week.
If your student is covering 20 words each week (an entire Wise List), he will write sentences for those words in his log at the end of each week.
If your student is covering 30-40 words per week, then only add sample sentences when you complete each Wise List.
Q: Does the student divide words into sentences in the Learning Log?
A: On almost every single page of the log, the students will be dividing words into syllables and using the SWR markings.
There are only a few Reference Pages in the Black Learning Log where this is not done. Always refer to the Sample Reference pages in your SWR book (pp. 212-219) to be sure.
Q: What if there are more words that can be used as examples than will fit on a Reference Page (e.g. ER words on P4 in the Primary Log)?
A: The point of the ER Page is to collect samples. There are times when you will exhaust the spaces available with samples (e.g. TI column on SH/TI pages, CK/DGE section on B3 in Black Log, etc.). That's ok! Running out of room demonstrates to the student that those are the most common spellings. The less frequent phonograms are more important because they are not used as commonly.
Q: What does NOT go in the Learning Log?
A: Tests, quizzes, reinforcement activities, practice sentences, penmanship practice, comprehension test answers.
Q: Will the Wise Guide tell me everything I need to add to the Learning Log?
A: The days of the week and months of the year are not included in the Wise Lists. That means you will want to add to your lesson plans when it works for you to add these words to the those pages of your student's Learning Log. There's a sample of these two pages (P-13 or B16 on WG p. 200). See Tip #10 on the "Lesson Planning Tips" blog for more about this.
Also, if you're working in the Black Learning Log, be sure you have downloaded your Answer Key for those Reference Pages in the back of the book not covered in your SWR book. You'll need to add these pages to your personal Lesson Plans as well.
Did you learn something new or has this helped answer some of your questions? Comment below. I'd love to hear your thoughts.
Share