TOP TEN TIPS for getting started with SWR
7. Build your own Learning Log.
You might be wondering what this is, how to do it, and why you should do it at all. First, let me say that unless you were taught with this method and built these logs as a student, YOU NEED TO BUILD ONE! (Yes, I'm speaking emphatically.) This method is different than other reading/spelling programs on the market. If you have not had a good, solid phonics background, this way of thinking is different than what you've done in the past. You can read the manuals, you can watch someone do it, you can even watch a video, but unless you actually dig in and do it yourself, you will not master it. It is said that we learn best by doing. You cannot learn to play the piano by reading a music book; you have to touch the keys. Likewise, the absolute best way to learn to teach SWR is to build your own Master Teacher's Log.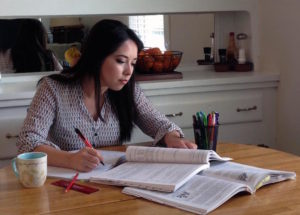 When I took my first seminar, Wanda encouraged us to build a Master Teacher's Log, and much of the class was spent starting this. I went home, promptly put mine on the shelf, and bumbled my way through the program making tons of extra work for myself because I hadn't done my homework. At my second seminar, Wanda again recommended the idea of continuing to build the Master Teacher's Log at home. This time realized how valuable of a suggestion it was! It took me several evenings and some concentration, but when I had finished working my way through the spelling list, I had a solid grasp of the program. I was able to understand and explain things that had seemed strange at first but which now were very simple to me.
I also wanted to offer encouragement about SWR. When I heard about the program, I felt overwhelmed and thought it sounded way too confusing–and I have an elementary education degree! Then I bought the books, started reading over them, and decided to dive right in and learn along with my daughter. I love how intelligently put-together it is, how much thought went into it, and how much I am learning. I never learned how to teach spelling in college. What a sad commentary. Everything began to click for me when I started my own Primary Learning Log and began to teach my 5-year-old to spell. Now my 3-year-old goes around saying "e double e always says e," and has learned an amazing number of the phonograms. What a wonderful program! If you're in doubt, don't hesitate to just dive right in!!! — Jenny
Which log should you use?
Start building the log that matches your student's log.

When only teaching a K-1 student, begin with a Primary Learning Log and set the goal to complete Sections A-L with the related Reference Pages at the primary level. When you have finished that, you can start a Black Learning Log, working through Sections P-Z, while also completing the Reference Pages at the advanced level. You'll then have two Master Logs which will include the entire Wise List. This whole process will take 5-6 years to accomplish if you start with a student at the very beginning and just keep ahead of him till the he reaches the end of the Wise List.


When only teaching a 2nd grader or above, start a Black Learning Log where your student will start in the Wise List, completing the Reference Pages at the advanced level. Your goal will be to finish through Section Z. See Tip 5 for more on how to determine your student's starting point in the Wise Lists.
When teaching a beginner and an advanced student, start by working through the preliminary steps for your youngest student, building your Primary Master Log with Sections A-G. Then go back and re-read Steps #1-11 with your advanced student in mind, starting your Black Master Log where he will start in the Wise List. Focus on one level at a time while you read. Now that our Black Learning Log is formatted for you, working between the two books is easier than ever for the teacher. Continue to build in both books as you start teaching.
How much do you need to do in the log before you can start teaching?
You do not need to finish your logs before you can teach! Aim to be about 3-4 weeks ahead of where your students are in the program. This will give you the chance to think through and process challenging words, new rules, and new Reference Pages—without having to do so in front of your student(s) when you're trying to teach. In other words, if your student is just starting List L-1, you should be on List L-4 or L-5 in your log.
If you are starting with a non-reader at Section A, you will have the luxury of learning along with your student, and you will be able to keep an easy pace. However, if you're starting with an older student who already has some understanding of the language and can read, then you had better get moving!
Your goal is to complete your Master Teacher's Logs regardless of when you start teaching. The way I completed my log the first time was to set aside time each evening once the children were in bed to work on it. Maybe for you this will be just 30 minutes a day; maybe you have more time. I sat at my kitchen table with a cup of nice tea in my prettiest china while I built my log. In all honesty, it does not take long and is fun! Whatever you can set aside, do it consistently and just stay ahead of your kids. Make the appointment with your books and stick to it.
When you're adding words from the WISE Guide to your learning log, have a piece of paper covering the right page of each list's two-page spread. Now look at the words on the left side of each two-page spread and notice where the syllable breaks are. Write them in your log with those syllable breaks, saying the phonograms while you write them. Then, figure out on your own how to mark the words. Now look at the right side of the two-page spread to verify if you marked the words accurately. You will learn much better if you actively think about the rules and what you're learning rather than just passively copy. In fact, merely copying will do you no good.
I believe the absolute best way to complete your book would be to find a partner with whom you can maintain accountability and work together in completing various sections. Write down your questions as you go through the lists and brainstorm with your partner answers to your questions. When you are both are stumped by a question, ask on the Yahoo Group.
Remember, the whole idea of the Master Teacher's Log is for you to understand the process.
This means that you only need to build one log at each level you're teaching, not one each year. Also, you don't need to finish your log to get started. Just keep ahead of your students, and you'll be doing great!