TOP TEN TIPS for getting started with SWR
10. Get Support.
Whether you need in-person training, want to view SWR in action, or need a place to ask questions, we have multiple ways for you to get the support you need.
1. Explore this web site
There's plenty of information available about the program right here on this site as well as a "Getting Started" series, full of helpful videos, ready to guide you through the process. Grab a cup of tea and start exploring.
I found the information on the swrtraining.com site so helpful! There was so much there to give me the confidence to start. Now we're up and running with SWR. — Suzie
2. Watch Our Videos
We have numerous videos for you with samples of the SWR DVDs, Endorsed Trainers modeling spelling dictation, help for administering and scoring the SWR Diagnostic Test, information about our phonograms, what to consider when working with preschoolers, and video answers to common questions from SWR users.
You can find our videos in three different locations (see below), even arranged in playlists for you. Please note that while there are other videos on YouTube relating to phonics and even some about SWR, you can be sure you're watching authentic SWR methodology if it's on our Endorsed SWR YouTube channel.
I would highly recommend you watch the SWR videos to see if your dictation needs tweaking. Sometimes when we do something for a long time we get into a rut and don't actually follow best techniques, which is why I like the occasional refresher course. — Deborah
Liz, I just want to thank you so much for your dedication to this program. I have watched hours of your videos, and I just adore you! I am so excited to start this program with my kids. This program makes so much sense, and I cannot wait to introduce it to my children. I'm not kidding. I've been binge watching your videos and can't get enough! — Carrie
3. Follow me on Facebook
I run an active page on Facebook where I provide daily tips and help with Spell to Write and Read and Cursive First. Find inspiration. Ask questions. Get ideas.
Be sure to "Like" the page, and then set your Notifications as shown below so that my posts actually show up in your News Feed.
4. Join one of our Online Support Groups
We currently have two fantastic online support groups, completely free of charge. If you're not already a member, you're missing out. No question is too small or insignificant. We've all been at the beginner stage, and the gentle, encouraging support you receive from our groups may be just what you need to help you out.
Our SWR Facebook Group was started by one of our SWR users. Simply request to join the group and answer THREE quick questions for one of the administrators to let you in the group. Several Endorsed Trainers are also on this helpful and busy Facebook group.
Our SWR Yahoo Group is a private mailing list for people interested in knowing more about SWR and for those who are already using it. You can subscribe to the group simply by signing up on the group's home web page (see button just below). When someone has a question, they post it to the group and everyone on the membership list receives the email. You can read exchanges between others in the group, ask your own questions, or help others when you have an answer to one of their questions. The more who jump in to help and encourage, the better. Author Wanda Sanseri, several Endorsed Trainers, and other users of the program answer questions regularly on the Yahoo Group.
You have to be a member of the group and signed in to access any of our group files or other features. Once you're a member, start in our "Getting Started" folder in the group files for even more help and tips than listed on this web site.
This Yahoo Group and the videos are immensely helpful for teacher-support. When I have a question, I can search the group's archives or files and get an answer that is thorough and helpful. If I don't find an answer there, I can ask the question and know I will get a well thought out response, even if my question is wacky! — Katie
The Yahoo Group is completely invaluable. All my questions have been answered here, whether or not I was the one who asked the question. Chances are, you aren't the only one with questions, and others possibly have the same questions as you. — Darby
6. Get one of our SWR DVDs
We have two different videos to help you along the way, whether you're looking for an overview, someone to walk you through what SWR is all about, or some training from an SWR Seminar. Visit our shop to learn more about these videos.
7. Attend an SWR Seminar
We have 20 Endorsed Trainers throughout the United States and in Canada with seminars ranging from one to three days each for Basic, Intermediate, and Advanced levels. These teacher training classes are an invaluable part of preparing you to be an effective SWR teacher. They most often occur in the summer months, but some are available at other times of year.
I was able to take a seminar this summer which was immensly helpful. It really helped show me the big picture of the process and method of SWR and I learned that I was going WAY too slowly in my son's Kindergarten year.– Sarah W.
8. Bring a Seminar to Your Area
Did you look through the Seminar Itinerary and not find a class near you? You can bring one to your area and likely attend for free. Check out the Hosting a Seminar page for more information.
Our son took to reading the way a fish takes to water, but our daughter struggles to read. Trying to teach her was torture for me. Then I learned about SWR and took the basic and intermediate training. When I was done, I knew I had the magic tools necessary to teach her not only how to read, but to spell and write with ease. I also knew I wanted to take the classes again next year, and hosting it was a way for me to do so for free. I'm also excited that in helping my children and myself, I'm also bringing this program to a whole community of learners. — Casey S., Homeschool Dad, CA
9. Schedule a Coaching Call
Endorsed SWR Trainer Rhonda Bedee from Texas is available to meet with you via your computer or phone to answer questions, demonstrate various SWR techniques, help you place your students in the spelling list, or guide you through some of the issues that are stumping you. Using simple online technology, she's even available to teach your students on a regular basis or to fill in as a substitute teacher if you're going to be unavailable for a few days.


Rhonda is an amazing SWR tutor! She helped me and my kids! I loved her ability to help spot some holes and teach me how to fill them correctly! Plus it's just encouraging to have another set of eyes to evaluate where your kids are and give everyone some clear direction going forward! Her experience & expertise is incredible! I'd highly recommend Rhonda for either a one time session or even ongoing! Thank you for the encouragement and boost of motivation, Rhonda! — Krista
10. Get on my Email Mailing List
Every other week a short email will show up in your inbox, including reminders, tips, ideas, notifications about upcoming sales with coupon codes, as well as links to recent videos, blog posts, freebies, and more. Just for signing up for our list, you'll receive a coupon worth $5 off on your first order on our web site shop AND information about our Phonemic Awareness Playlists.
Do you want to be notified of a seminar coming to your area or make sure you're up to date on all things SWR and Cursive First? Sign up for our email list today. We won't overload your inbox, and your information is safe with us.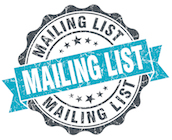 11. Read my Blog

The blog on this website is filled with helpful ideas, tips, and information to help you teach SWR and Cursive First. Think of it as a library of extra resources to help you hone your teaching skills. When you comment on one of the posts and then select the option to receive emails for future posts, you'll be notified in the future when new posts are released.