Did you miss Part One of our End-of-the-Year series? Read it now.
You've been busy teaching your Language Arts lessons all year. Now you're face with the challenge of determining how well your student has done. Where are you? What needs to improve? What could you celebrate? Today we'll look at several ways that you can objectively measure your student's progress this year.
Read Phonograms with dialogue. Have your student read his "learned stack" of phonograms (the ones you taught him this year) from the cards. Get a percentage of the ones he can read correctly with all proper phonogram dialogue. For example: AY = /A/, the two-letter /A/, that we MAY use at the end of English words, or GN = /n/, two-letter /n/ used both at the beginning and end of a base word.

Read Phonograms with sounds only. Have your student read the "learned stack" of phonograms saying the sounds only, no dialogue. For example, AY = /A/, EY = /A-E-i/. If you haven't been practicing this way a time or two each week, then be sure to give him some practice runs before timing him as he does this. You never want to test him on a task on which he has not had ample practice runs.

Quiz the Phonograms. Read his learned phonograms one-by-one, having him write them for a quiz. He doesn't see the phonogram cards; he merely hears you say them and writes them. (See SWR p. 40 for more information on how to give a phonogram quiz.) Get a percentage for the phonograms you quizzed.

Give a Diagnostic Test. Administer the next diagnostic test in the series found in SWR Appendix B. See our web site for tips on administering and scoring this test. It's important to remember that the results of this test will depend on where you are in the lists, how new your student is to the program, how consistent you were over the year, as well as many other factors. This handout on our web site helps you understand just what this test tells you, and what other factors you need to consider when evaluating progress.<

Get a writing sample. Have your student do some independent writing. What that involves depends entirely on where you are in the teaching process. Have your beginning level student write sentences independently. Your student might be ready to write a short paragraph (4 or more related sentences) or even a short essay. Again, depending on what you emphasized in your lessons, here's a sample of what you'll want to assess:

penmanship
punctuation
grammar
spelling
word choices or vocabulary
paragraph or essay writing:

developing a topic
opening and closing sentences
progression of the ideas

Record a reading sample. Select a passage for your student to read aloud while you record him. If you did this at the beginning of the year, you could have him read the same passage again. Compare the two recordings. Has his fluency and pace improved? Is he able to read with proper inflection? The less a student has to focus on decoding, the more automatic the process of reading becomes. This will be reflected in his ability to read with intonation and a more conversational vocal tone.

Collect scores for reading comprehension tests. Has your student been using the McCall-Crabbs Tests of Reading Comprehension? You'll want to collect about 10 scores for an average. Have you seen an improvement in his scores from the beginning of the year?

Compare your results to the beginning of the year. Look at each of these assessments and compare your student's results to where he was at the beginning of the year. Following are two examples of what an assessment might look like when comparing the Beginning-of-the-Year (B-O-Y) with the End-of-the-Year (E-O-Y). In the first example, the beginning student is around 6 years of age and started as a complete beginner to the process of reading and writing. In the second example, this third grader is finishing his second year with SWR. Here's a PDF of these reports, which you can print out and study further.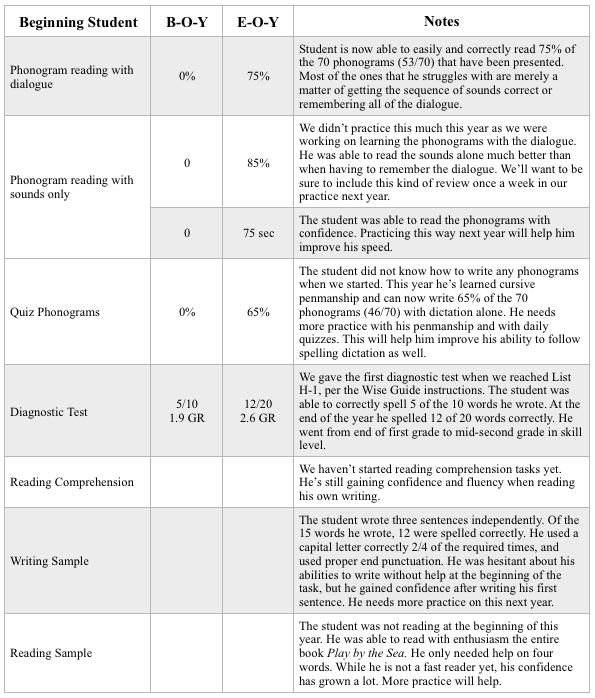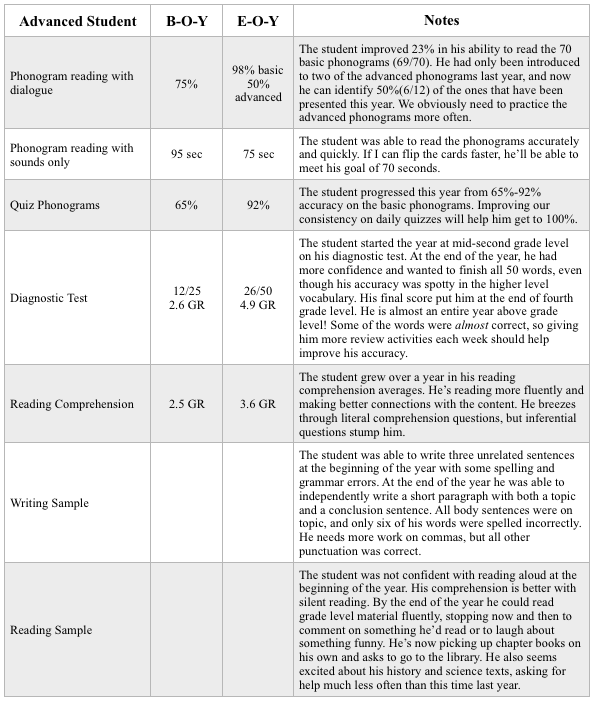 After completing assessments with your student, what can you celebrate? Do you have some ideas of what you need to work on next year? We'd love to hear what you're celebrating, even see some pictures of your event. Please share!
Share