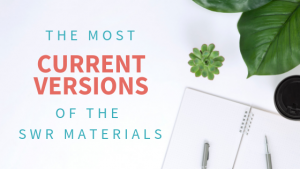 Our SWR users commonly ask, "What is the most current version of the Spell to Write and Read materials?" Following is the current status of the materials according to Author Wanda Sanseri as of Summer 2019.
A new, formatted Black Learning Log was introduced in 2012. Changes in the content within Spell to Write and Read involve the new log.  We have an answer key to the new pages of this log that are not discussed in the Spell to Write and Read or The Wise Guide books. It is available as a free download.
The current copyright date on the 70 Basic Phonogram Cards is 2012 while the Spelling Rule Cards is 2015.
Enough changes were made in both Spell to Write and Read and The WISE Guide to upgrade the copyright to 2015 in both books.  SWR Step #9 was reworked in 2016 so that it is now in a much more teacher-friendly format. That whole step is also available as a free download.
Why update the books and cards? Clarifications have been added along the way that address commonly asked questions. There are also many new fun surprises or valuable explanations on the "whys" that pop up in the materials.
One example of the changes that were made touches on almost every spelling list in The WISE Guide. It is especially helpful that the teacher guide the student in identifying the stressed syllable in a word when using using our think-to-spell tool, since the unstressed syllables are the ones that present the most tricky spelling challenges. To aid in this, the stressed syllable is now in bold on the left hand page of the word lists in The Wise Guide.
If you have older materials, it would be worthwhile to get an updated SWR Core Teacher's Kit. However, you can certainly still use what you have. Just open it and dig in.
Share