I know…we haven't even enjoyed the Thanksgiving bounty yet, so it's still early to be talking about Christmas. However, I've got some fun ideas for you to help your kids practice their phonograms and reading during this coming holiday season.
It occurred to me that if you're going to actually DO any of these ideas, you might need to do some advanced planning. So here are my TOP TEN Christmas-Themed Ideas for Practicing Phonograms & Reading.
IDEA #1 – Books Advent Calendar
An SWR Mom I know shared this idea, and I just loved it! She gathers 24 books, wraps them, and puts a number on each one. Each day during December the kids get to take turns opening a book, which they read together.
You can get inexpensive books from the dollar store, dig into your own bookshelves, or find great book sets on sale for the holidays right now. Rosie shared, "The fun was just in the unwrapping and discovery of what book it would be. I decided to try the library out since we didn't have enough to begin with. I marked those library books on the wrapped packages so that we would unwrap those first, in case we could not renew a book after the 3 weeks. Now I have more than 25 Christmas books collected, so I don't need to utilize the library, but it was a good way to discover which books I did (or didn't) want to invest in for our own shelves."
IDEA #2 – Advent Foretold Devotional
One of our family's favorite Christmas traditions over the years has been to go through The Advent Foretold: A December Devotional for All Ages by Gary and Wanda Sanseri. When my boys were very young, I used the Advent Foretold Calendar Patterns to create our Advent Calendar. Regardless of whether we gather for the devotional now (with college & adult children, those moments are rare), the Advent Calendar is hung on November 30 each year, and one of my kids will remove a panel each morning.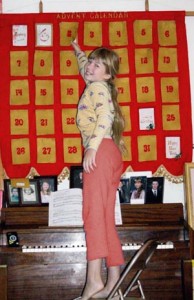 Our Advent Calendar took quite a while to make, and it's a work of art. But if you're not handy with liquid embroidery paint, felt, and a hot glue gun, I encourage you to use the pictures in the Devotional and a copier. Yep, you can copy the pictures from the book for your kids to color while you read and discuss the devotional. The pictures can then be posted on a wall, the fridge, or on a poster that you build over the month.
Have older children help you read the Bible passages or the scripture on the coloring pages. Younger children can help read the page titles or search for their new multi-letter phonograms.
IDEA #3 – Salt Dough Phonogram Ornaments
When my children were very young, we made salt dough ornaments. One of their creations included an ornament in the shape of that child's first name initial. After the ornaments had finished baking and cooling, we'd paint them, including writing out the child's full name on the ornament. (This was important since two of my kids' names started with the same letter. 😉)
You could make ornaments in the shape of phonograms. When you decorate them, the children could write the name of a Christmas character, item, or memory on each ornament to go with that phonogram. Here are some to get you started:  A = angel, Anna; B = baby, Bethlehem; C = Christmas, cattle, Caesar Augustus; D = donkey; E = eternal life, Egypt; F = field, frankincense; G = gifts, gold; H = host (of angels), hay; I = inn (as in no room), Israel; J = Jesus; K = King; L = Luke; M = manger, magi, myrrh; N = night, nativity; O = Old Testament; P = prophecy, Palestine; QU = quiet (after the angels stopped singing); R = Rome; S = star, swaddling, singing, Simeon; T = tree, town; U = unique; V = virgin; W = wise men, wonder; X = eXalt; Y = young; Z = zealous (for God) . . . what others could you name?
Here's a recipe and instructions.
IDEA #4 – Felt Tree for Toddlers
You've probably seen this idea floating around Facebook for a couple years, but this would be a perfect place to not only make felt "ornaments" available for your toddler, but how about phonograms made from felt?
Here's a web site with instructions and a template you can download for free. (Phonogram templates would be your own creation.)
IDEA #5 – Christmas Card Game
Does your family like playing games? Here's a card game for your kids that need some practice reading. This downloadable game ($1.50) includes Christmas-themed vocabulary that incorporates the Silent Final E #4 at the end of words.
Share