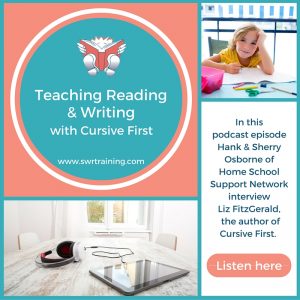 Back in 2012 I had the pleasure of joining Hank and Sherry Osborne of the Home School Support Network on a podcast in which we discussed the benefits of and methods for teaching cursive. During our time together we discussed the following topics.
Statistics on our nation's literacy failures
Why handwriting is important
The history of handwriting in our country
How/why a shift was made in our educational system for reading and handwriting
The advantages of learning cursive first
Why cursive when we are a society filled with print from computers and printing presses
The effects of switching from print to cursive
How cursive can be used with special needs where they have weak or tired hands
How to begin teaching cursive (i.e., tactile practice of strokes using a salt box, sidewalk chalk, etc.)
The entire episode is 1:18:06 in length, so grab a cup of coffee or your favorite tea and have a listen.