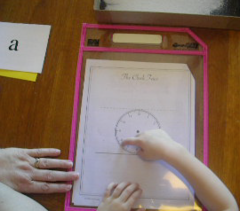 You have a little one that's eager to learn to read and write, and you've heard that teaching cursive from the beginning is developmentally more appropriate. But your child doesn't hold a pencil correctly yet or even write. How can you teach him cursive penmanship?
You will want to follow the same pattern that your child used for learning other body movements: start with large motor and progress to fine motor. Also, seek to utilize multi-sensory methods that help the brain learn more efficiently and effectively. Following is how Cursive First helps you accomplish this.
The child starts by writing with large motor movements in tactile/kinesthetic media (feeling/movement) to reinforce the motor patterns associated with writing the letters.
He reinforces the movements as he rehearses a preset dialogue that walks him through forming each letter.
As he develops mastery with the dialogue, he continues practicing his writing but now he is repeating the sounds the phonograms will make in the written language, thus reinforcing the sound-symbol system.
Only when the child can automatically write his letter in the large motor and tactile/kinesthetic context without a visual model will he transition to paper/pencil where the process is repeated.
Finally, he is directed to develop fine motor control of the writing instrument and spacial orientation on lines for what he already knows how to do automatically.
Are you wondering if your little one is ready to begin learning to read and write the basic phonograms? We have an article you can download to help you decide whether your budding learner is ready.
Here's a video demonstrating how we teach with Cursive First.
Share